Protect Your Most Valuable Assets
For many of us our home or business property is our single largest investment. Pressure Wash My Property takes pride in helping people just like you protect their physical property from early aging and loss of value commonly caused by buildup of mildew, pollens, and other common contaminants. Over time as this debris remains on the surface of your home or business's exterior features deep discolorations and stains will begin to set in. Without proper cleaning from a pressure washing professional these discolorations can prematurely lead to costly repairs and loss of value from resulting damages.
For more information on how we could help your individual property, please see the additional information below.
Your home is likely your biggest investment...
Pressure Wash Your Home Regularly to Keep It Looking It's BEST!
Let us help you keep all the mildew to a minimum, with a combination of applications from pressure washing to soft washing to ensure your property stays looking its best. From home washing packages to roof cleaning, from gutter brightening to fence rejuvenation, if the exterior of your home needs cleaning Pressure Wash My Property is the answer!
We Can INCREASE Your Curb APPEAL!
Enter Your Info For your FREE Estimate!
With our Home Washing Packages, we will be cleaning the exterior surfaces of your home, which over time has many positive benefits well beyond just the visible difference. The exterior walls and surfaces of your home collect dirt, pollen, mildew, and other pollutants through time, leading to visible discoloration that lessen the curbside appeal of your property. Our team of professionals have been trained to utilize a variety of cleaning methods to ensure your property looks as good as new. Depending on the underlying surface, our technicians will choose between pressure washing or soft washing your house to properly restore your home to its original aesthetics.
If your roof is showing signs of unsightly stains, we can use our soft wash machine to apply a roof cleaning solution to your roof with low pressure to remove all the mildew, microscopic lichens and algae with a light rinse after the treatment is complete. This method is a safe and effective way to clean both clay tile and asphalt shingle roofs. This roof cleaning process will also help to prevent future regrowth of the same algae, lichens, and mildew from returning to your roof and potentially preveting premature detioration of your roofing system.
Why Pressure Washing Your Home or Business Regularly Is Important...
Are you tired of seeing the dark spot caused by water run-off? Or is your driveway just dark gray from years of buildup of dirt, brake dust, and pollen? The exterior of your home is the first impression for guests upon their arrival, making curbside appeal a critical area of focus. Our Driveway Power Washing package is sure to brighten your home's curbside aesthetics. Our technicians will use a specially formulated solution to help remove the dark discoloration caused by water run-off and build up of pollen. Each Driveway Pressure Washing package includes pressure washing of driveway, sidewalk/walkway, and curb along the property line to bring back that fresh appearance.
Soft Wash Cleaning
Similar to our home power washing service, our soft wash cleaning process is utilized when the heavily stained surface is sensitive to the high pressure process. Our team of professionals have been trained to clean your property using a proprietary cleaning solution in combination with our low pressure process. This home soft washing is sure to remove mildew, dust, pollen, and other build-up from the side of your building or signage.
Whether you have a large scale commercial property or would benefit from soft washing your home, our soft washing service is great for roofs, stucco, metal siding, and commercial signage!
Gutter Brightening
Are your gutters heavily stained? With our gutter brightening service, we apply our specialized gutter cleaning solution, and agitate with a soft bristled brush where necessary, before a final rinse to complete the process... A lot of times a good deep cleaning can prevent the gutters from needing painted for a few more years.
Privacy Fence Cleaning
Second to our curbside appeal, the fencing surrounding our houses often become another common eye-sore around many properties through time. As wood ages the exterior appearance begins to turn gray. This aging is caused by exposure to the sunlight and elements can be reversed by pressure washing and treating the wood. Pressure washing fence helps bring back the youthful appearance of a new fence, while also providing the chance to stain/seal the freshly power washed fence.
Realizing fences are commonly shared property amongst neighbors, we recommend taking advantage of our group rate to maximize the effectiveness of this service! Every neighbor that signs up for our Privacy Fence Pressure Washing will save 20% off the service!
HOA Curb & Common Area Cleaning Packages
Is your Community looking to make some big visual changes? Curb appeal starts with what you see the moment you approach the entrance to the community. We can pressure wash all your curbs, sidewalks, and common areas, or we can even put together prices to wash every home or driveway for communities as a whole based upon their cleaning needs and the average square footage.
Services Provided By Pressure Wash My Property:
Why Pressure Wash My Property is able to offer great prices, multi property discounts, and group rates?
Like any specialty contractor, having the right equipment for the job is absolutely crucial in the pressure washing industry. Like anything in life, time is money, with that being said, having the right pressure washing equipment to do the jobs thoroughly and efficiently makes all the difference. Pressure Wash My Property has taken the extra time and money to put together one of the best pressure washing trucks in the local market. This in turn helps us be more efficient in the field, which then reflects on the price savings we are able to pass on to the customers.
Our large area surface cleaner will pressure wash 48 inches at a time, while our smaller surface cleaner will cover 24 inches at a time. This allows us to be able to clean large amounts of concrete surfaces much faster than your average guy from the neighborhood. This also gives us the ability to offer better rates to our customers.
We also offer multi property rates to home owners in the rental industry as well as commercial property management companies. With any industry, when a customer finds a contractor or a service provider that they're satisfied with the results from, they tend to keep using them at other locations and telling their other friends who to call when they're in need of your services.
Sign up with a neighbor or neighbors and you'll each save a little more for making our life a little easier.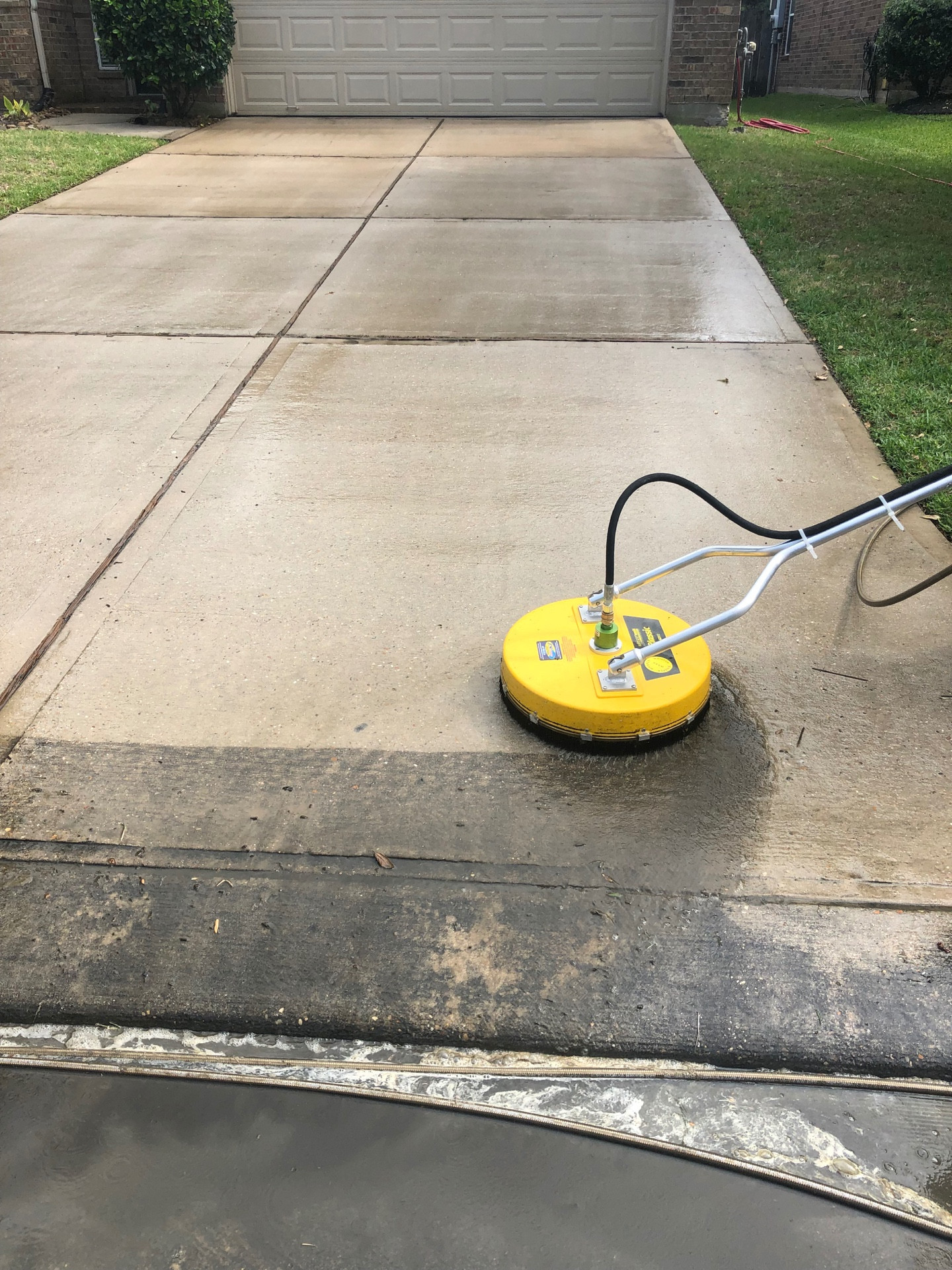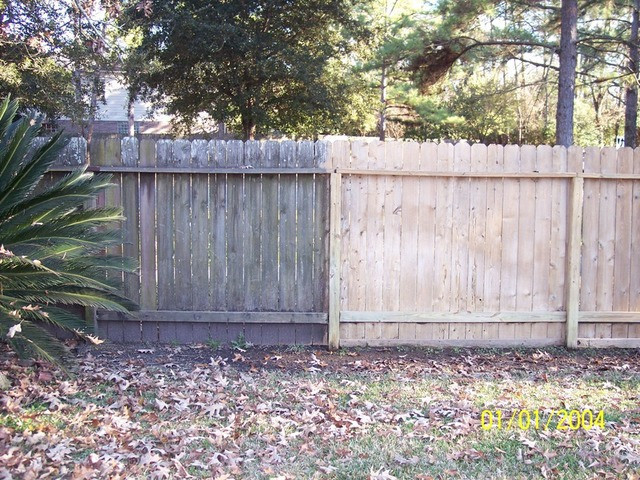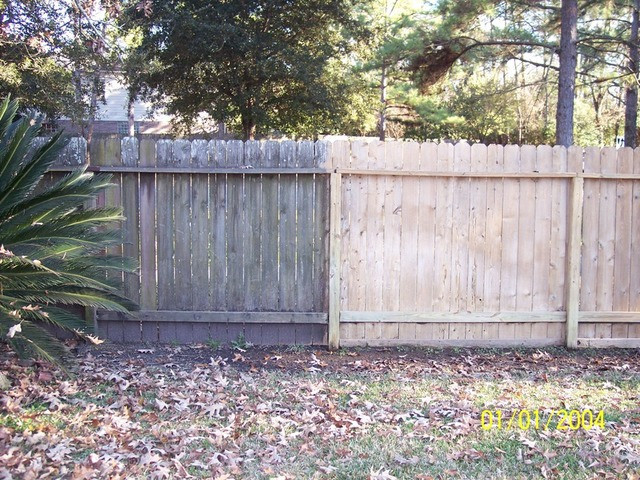 Pressure Wash My Property Proudly Serves the Following Cities:
Houston, Liberty, Cypress, Roman Forest, Crosby, Porter, Woodbranch, Patton Village, Huffman, Conroe, New Caney, Kingwood, Atascocita, Magnolia, The Woodlands, Humble, Montgomery, Spring, Tomball, along with other neighboring communities.
Residential Pressure Washing Service in Houston, TX